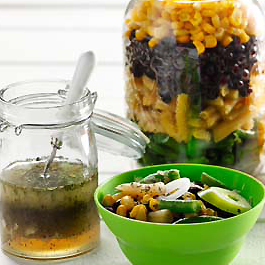 Courtesy of CanolaInfo
Servings: 12
Prep Time: 15 Min.
Cook Time: n/a
* 1 can (14 oz./398 mL) green beans
* 1 can (14 oz./398 mL) yellow beans
* 1 can (19 oz./540 mL) black beans
* 1 can (12 oz./341 mL) corn
* 1 white onion, sliced into rings
* 1 green pepper, seeded and sliced into rings

Tarragon Vinaigrette
* 1/2 c. canola oil (125 mL)
* 1/2 c. white vinegar (125 mL)
* 1/4 c. granulated sugar (60 mL)
* 1 tsp. dry mustard (5 mL)
* 1 garlic clove, minced
* 1 tsp. dried tarragon (5 mL)
* 1 tsp. dried basil, crumbled (5 mL)
1. Strain and rinse green beans, yellow beans, black beans and corn. Mix in a large bowl.
2. To prepare vinaigrette, whisk together canola oil, vinegar, sugar, mustard, garlic, tarragon, and basil. Pour onto bean mixture prior to serving. Garnish with onion and green pepper rings.

* Recipe courtesy of CanolaInfo.
Calories: 180;
Total Fat: 10g;
Saturated Fat: 0g;
Cholesterol: 0mg;
Total Carbs: 18g;
Fiber: 5g;
Protein: 4g;
Sodium: 135mg;