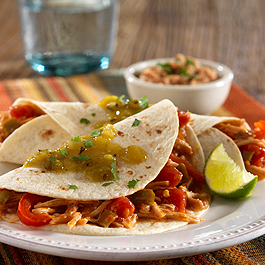 Courtesy of VELVEETA® and RO*TEL®
Servings: 6
Prep Time: 15 Min.
Cook Time: 6-8 Hrs.
Pulled Pork:
* PAM® Original No-Stick Cooking Spray
* 3 lb. boneless pork loin roast
* 1 can (10 oz. ea.) RO*TEL® Original Diced Tomatoes & Green Chiles, undrained
* 1 can (8 oz. ea.) HUNT'S® Tomato Sauce-No Salt Added
* 1 c. chopped yellow onion
* 1 Tbsp. finely chopped garlic
* 2 tsp. ground ancho chile pepper
* 1/2 tsp. ground cumin

Carnitas:
* 4 tsp. cornstarch
* 4 tsp. cold water
* 1 c. red bell pepper
* 12 flour tortillas (6-in.)
* 1/2 c. salsa verde (green salsa)
* 2 Tbsp.chopped fresh cilantro
* 1 lime, cut into 6 wedges
1. Prepare Pulled Pork: Spray inside of 4-quart slow cooker with PAM® cooking spray; set aside. Remove any visible fat from pork roast; place in slow cooker.
2. Combine undrained RO*TEL® tomatoes, HUNT'S® tomato sauce, onion, garlic, ground chile and cumin in small bowl. Pour RO*TEL® tomato mixture over pork roast. Cover; cook on LOW setting 6 to 8 hrs.
3. Transfer pork roast to cutting board; shred. Place half of the pork (about 4 c.) in storage container. Remove half of the juices with vegetables (about 2 c.) from slow cooker and place in separate storage container. Store both for second recipe, Pork Posole (see startmakingchoices.com for recipe).
4. Prepare Carnitas: Stir together cornstarch and water in small bowl until smooth. Add cornstarch mixture to remaining juices in slow cooker; stir. Add remaining shredded pork and bell pepper to slow cooker; stir. Cover with lid. Turn slow cooker to HIGH; cook 20 min. Stir again.
5. Fill tortillas with pork mixture; top with salsa verde and cilantro. Serve with lime wedges.

Cook's Tips: Serve Carnitas with ROSARITA® No Fat Refried Beans.
Calories: 430;
Total Fat: 14g;
Saturated Fat: 5g;
Cholesterol: 84mg;
Total Carbs: 40g;
Fiber: 4g;
Sugar: 5g;
Protein: 34g;
Sodium: 662mg;